International Summer School UNIV.E.R-U in Odessa
10.09.2021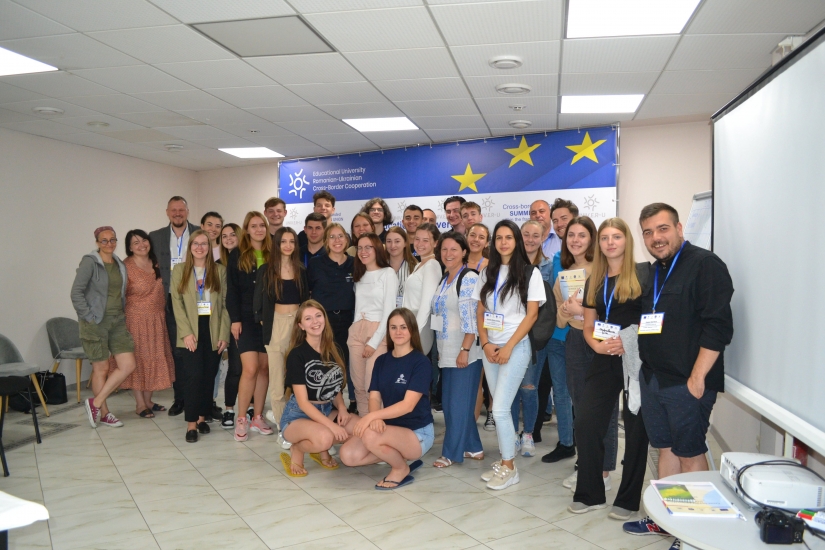 From September 6 to 10, 2021, the International Summer School was held in Odessa within the project Educational University of Romanian-Ukrainian Cross-Border Cooperation - UNIV.E.R-U (EMC code ENI 2SOFT / 1.1 / 115). The event was organized by the team of Odessa Polytechnic State University in partnership with the leading project partner of the Stefan cel Mare University of Suceava with the financial support of the Joint Operational Program Romania-Ukraine 2014-2020.
The participants of the first shift of the school were 29 students from the Stefan cel Mare University and the Odessa Polytechnic State University. During the event, participants were divided into international groups to work on joint projects as part of the training "Fundamentals of Project Management", conducted by Mikhail Lebed - project manager of «UNIV.E.R-U».
The key thematic areas of the school were:
- Support for education, research, technological development and innovation
- Promotion of local culture and preservation of historical heritage
- Support for social and solidarity economies in cross-border cooperation
- Environmental protection, adaptation to climate change and mitigation.
During the week, participants prepared their own project ideas using project management tools and presented them:
Team №1 "Aristocrats" - "Virtual museums as an opportunity to get acquainted with the culture and history of the neighboring state"
Team № 2 "PESO" - "The Impact of cross-border cooperation on economic characteristics of border areas"
Team № 3 "FuDel" - "Organization of distance learning in an epidemic Covid-19"
Team № 4 "The Death Eaters" - "Involving young people in cross-border economic development: best practices and opportunities"
Team № 5 "Defenders of the Black Sea" - "Environmental problems of the Black Sea"
According to the results of the presentation of the projects, the teams "PESO" and "Defenders of the Black Sea" were awarded in the nomination "Investment attractiveness of the project idea". «The Death Eaters» were nominated for «Project Importance».
«Aristocrats» and «FuDel» were awarded three nominations - novelty and relevance, technical component and creativity of the project idea. In addition, «FuDel» became a record holder among the participants and received the fourth nomination «Project Importance».
In addition to studying, the school was full of excursions to Akerman Fortress (Belgorod-Dniester) and Odessa Polytechnic State University, city walks and interactive team games.
The International Summer School has become an excellent platform for acquiring knowledge, exchanging experiences and establishing stable communications between students of Ukraine and Romania.
We thank the UNIV.E.R-U project team, representatives of the leading partner of the Stefan cel Mare University of Suceava and the Department of Marketing and Innovation Policy of the State University "Odessa Polytechnic" for active participation in organizing and conducting the event.