Open Registration for the International Student Conference "Cross-Border Cooperation. Experience and Perspectives" (15-16th of April 2022)
05.04.2022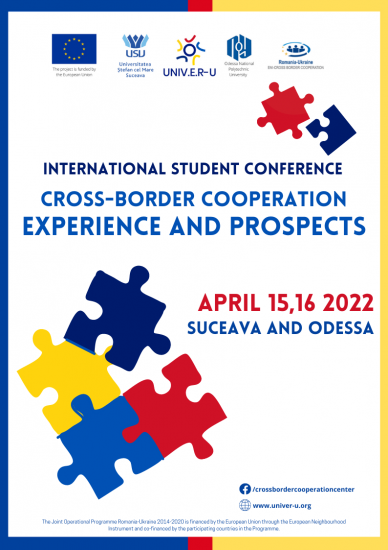 The partners of the project "Romanian-Ukrainian Cross-Border University Educational Cooperation - UNIV.E.R-U", "Ștefan cel Mare" University of Suceava and Odessa National Polytechnic University, are inviting you to participate in the International Student Conference "Cross-Border Cooperation. Experience and Perspectives" (15-16th of April 2022). This event with cross-border impact aims to bring together students from various fields but interested in cross-border cooperation, mainly from the two partner universities.
The conference agenda will include three discussion panels: two panels dedicated to students participating in the Winter and Summer Schools of the UNIV.E.R-U project and the third panel dedicated to all students of the two partner universities who wish to discuss topics on cross-border cooperation in the current period.
The event is addressed to undergraduate, master and doctoral students and will be held in onsite format at the "Stefan cel Mare" University of Suceava and online with the National Polytechnic University of Odessa.
Registration is open until April 11th 2022, through a Google form available at:
https://forms.gle/uvHhKdKXPkfGKPqP7 (for Romanian participants)
https://forms.gle/dgs2PBDTRE714rz6A (for Ukrainian participants)
Further details and information can be obtained by sending an email to: cbc.center@usm.ro or ro.ua.centre.odessa@gmail.com